This is a banner day. After several weeks of converting pages, writing new copy, and integrating new programming features, the new face of the Logical Expressions Web site is alive and well at http://www.LogicalExpressions.com.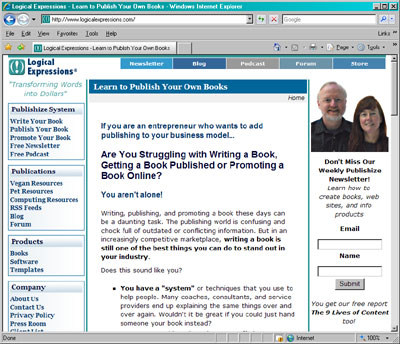 We embarked on the rebuild for several reasons:
The site needed a facelift. We've had the same look for quite some time and were ready for a change. The new look is not radically different, but it is definitely more streamlined.
The site needed some reorganization. Our site grew substantially over the past several years, and like all projects that change over time, new material didn't always fit well in the old structure.
We changed our business focus. For years, we have helped our customers with Internet marketing, publishing, and e-commerce. We still do that, but now we are focused on doing it primarily for the self-publishing market. Having successfully self-published eight books ourselves, we are now doing what we do best: helping others learn how to do the same thing.
The underlying code needed to be modernized. Although a previous site update got rid of all the font tags, the HTML was still difficult to work with because of legacy coding practices. I completely gutted the site and started over with a new framework. My wife Susie and I rebuilt every page from scratch, using Firefox as we went to make sure every page validated against XHTML Transitional.
We are very happy with the new design, the new site features, and the new marketing message. Hopefully our customers will be just as impressed!