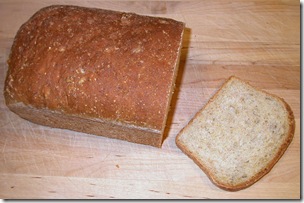 If you are a fan of the light, nutty taste of sunflower seeds, you'll enjoy this recipe. Sunflower seed bread makes a great general-purpose loaf for sandwiches, toast, and more. You can use it with sweet dishes (e.g. French toast) or savory dishes (e.g. stuffing).
Ingredients
1 1/3 Cups Water, lukewarm
2 1/4 Tsp Yeast
3  Cups Bread flour or unbleached flour
1/4 Cup Whole wheat flour
1/2 Cup Multi-grain cereal
1/2 Cup Sunflower seeds
1 Tbsp Sugar
1 Tsp Salt
2 Tbsp Sunflower or canola oil
Instructions
Pour the water into a large mixing bowl or a bread machine pan and sprinkle the yeast across the surface of the water. Set aside.
In a medium mixing bowl, add the flour, multi-grain cereal, sunflower seeds, sugar, and salt. Whisk the ingredients together until the sunflower seeds are evenly distributed.
Add the oil to the yeast and water mixture.
Add the dry ingredients to the wet ingredients.
If using a bread machine, start it using the appropriate settings, and you're done. If making the bread by hand, continue with the following instructions.
Mix the dry ingredients into the wet ingredients thoroughly. Knead the dough for about ten minutes, until it starts to become stretchy and smooth. Add more flour if you find the dough sticking to your hands, otherwise, keep it as moist as possible.
Cover the bowl and let the dough rise until it about doubles in size. This takes about an hour in a 70-degree room, longer in a cooler room, and less time in a warmer room.
Spray a light coat of canola spray oil on the inside of a standard 4×8 loaf pan. Sprinkle with fine corn meal. Shape the dough into a loaf and place it the loaf pan. Place the pan in a draft-free area to rise. I usually keep it in our microwave oven, but you can loosely cover it with a cloth as well. Just don't impede the dough from rising above the edges of the loaf pan.
Let the dough rise for about 45 minutes, then preheat the oven to 375 degrees (F).
After the oven has preheated (give it 15 minutes), put the loaf into the oven and bake for 50 minutes.
Remove the loaf from the baking pan and place on a cooling rack.
You can slice and serve the bread after it has cooled for about 20 minutes. Use a serrated knife and slice carefully.
Tips
At the point the loaf goes in the oven, the dough should fill the baking pan completely and may even bulge over the sides a bit (depends upon the actual size of the pan). Give the dough another 10 minutes of rising time if the room is cold or the dough has not filled the pan.
This recipe makes a crispy crust. If you prefer a soft crust, bake at 350 degrees (F) for 1 hour.